Beth
Female
22/10/2016
Age: 2
Bullmastiff Mix
Located in QLD
Not available for interstate adoption
---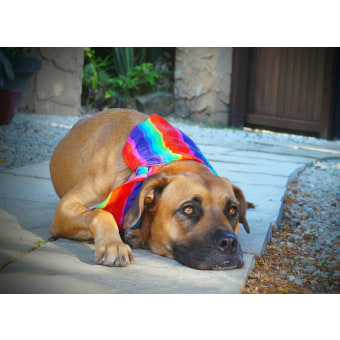 We have had Beth for 3 weeks now, and this girl has had a complete personality change.
She was with her fur mother right up till the day we rescued her.
Beth was completely shut down, and was distraught where her bowels and bladder let go.
She is in foster care with 4 other dogs, big and small, which has helped her do a complete 180'.
Her confidence and self esteem has just blossomed.
Beth does not have a mean bone in her body.
She is wary with people when she first meets you, but if you a quiet and gentle, you can win her over pretty quickly.
Their has been no signs of aggression, taking toys off her, putting your hand in her food bowl, when she's eating.
In the short time she has been here, she can sit, lie and stay.
We have had her on lead many times so far and each time she is improving.
She is very much a inside dog, and loves to be in amongst the family.
On the couch when invited.
Sleeps on her bed next to carers but will wait for any sign of getting up on bed for a cuddle in the morning.
She is a little wary of men, which is surprising as her abuser was a woman?
We think, maybe she hasn't met a man?
But has warmed to her male foster carer slowly.
Beth's adoption will be a little different to the normal process.
We think she needs a few meetings with her potential adopter.
Then a couple of visits to their place.
Beth definitely needs at least one fur sibling.
It wouldn't matter size of dog as she is fine with all sizes.
As she is getting more confident her energy levels are coming out more and more and she is acting like a big pup.
But she will lie around with you.
Beth is a beautiful dog and needs a very loving patient person or family that will give her the time and love and make her part of their lives.
Name: Beth
Age: 2
Breed: Bullmastiff Mix
Gender: Female