Beth
Female
3/11/2016
Age: 2
Bullmastiff Mix
Located in QLD
Not available for interstate adoption
---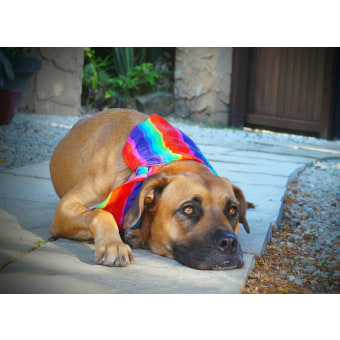 Beth came to us in mid January, from an abusive home.
She was living in a house with her fur birth mother and her female owner.
The owner was caught abusing her from a friend and immediately took Beth out of the situation.
She came to us, distraught, shut down and completely shattered.
She has been in the same foster home from day dot, with 3 other dogs and has completely absorbed herself into the pack.
She was very nervous and wary of strangers to start with, but has gained her confidence back and has rules and boundaries and has shown to be a lovely gentle soul.
She is still a little wary of men, but she has improved and now you will catch her on the lounge having a cuddle with her foster dad.
She is still a pup and likes chew toys.
She is in a household with older dogs, and no one wants to play with her.
She is walking better on lead, and has great recall when she is off lead at the beach or reserve behind foster home.
We believe Beth needs a home with another dog, maybe one a little older than her.
She is fine with small or large dogs.
If she would to be a only dog, she needs her people around abit.
Beth definitely needs to be an inside and outside dog.
She is very respectful when she is inside and Loves to curl up on a couch or bed if you let her.
You can put your hands in her bowl of food when she's eating and can take bones off her.
We have seen no signs of her being reactive to other dogs.
If she is frightened or scared she will slightly growl and run away.
Everyone that has visited Beth in the rescue, have fallen madly in love with her soft and gentle nature.
Beth is soo ready for her forever home.
Name: Beth
Age: 2
Breed: Bullmastiff Mix
Gender: Female