Hank
male
30/8/2016
Age: 3
Great Dane
Located in
Not available for interstate adoption
---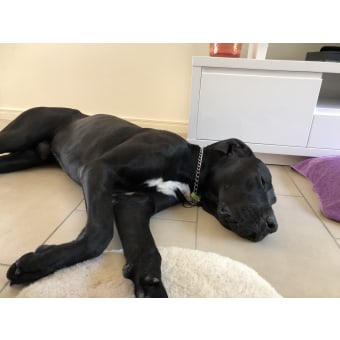 We have rescued Hank from a Boarding kennel, where he was dumped from previous owner, back in October.
Owners at kennels tried to find owners to no avail.
They kept him there, not knowing the best way to handle the situation, so
they reached out to an acquaintance in the Dane world, who contacted us. He has been in foster care for the last month or so, and has been doing extremely well.
He has been desexed recently and still needs to put a few kilos on.
He is very dog friendly with all dogs, but does play rough as he is sharing his home with a very playful, rough tumble bull mastiff.
We prefer him to go with a female, not because of Hank, he is great with male and females.
He has had a couple of meets with dominant larger males who have attacked Hank.
A male small dog would be fine as long he is not intimidated by Hanks size.
Not a lover of cats.
Older children would be better for him, just due to his size.
We think he does need a fur friend if he is spending time without his humans.
If you are familiar with the Great Dane breed, you will know they are big goof balls and love to lean on you.
This boy is a gem and deserves a great home.
P.S This boy is a home body and sleeps inside with no issues.
Toilet trained.
This boy doesn't have a mean bone in his body and deserves a family that will love him to the moon and back.
We need a home with strong 6ft fences.
Name: Hank
Age: 3
Breed: Great Dane
Gender: male